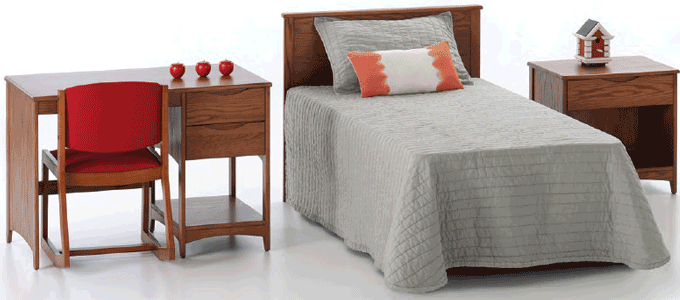 Heavy Duty, Commercial Grade Wood Furniture
Commercial Supply Distributors quality contract heavy duty, commercial grade wood furniture provides the market with heavy duty wood furniture that is stylish yet practical, that is exceptionally sturdy and will function well in a variety of settings. All of CSD's furniture is manufactured in the USA. Our heavy duty wood furniture does all of this plus it's economical.
We will customize many of our furniture pieces to meet any special requirements you may have. Our innovative designs supply you, our customers, with furniture that will fit your needs. CSD can furnish common areas, reception areas, dorm rooms, study labs, and recreation and game rooms in fire stations, treatment centers, group homes, schools, conference centers, employee housing, corrections facilities, and recreation facilities.
Heavy Duty Wood Furniture
---
Lowell Intensive Use Oak Furniture
CSD's Lowell Oak furniture is heavy duty wood furniture constructed of solid American oak with oak veneer side panels. Drawers feature dovetail construction and steel suspension slides. Available with carved or metal drawer pulls. The below is available in the following Wood Stains and Finishes.
Download Oak Furniture Brochure PDF
Roommate Intensive Use Oak Furniture
Constructed of solid planked American oak with oak veneered back. Drawers feature dovetail construction and epoxy coated steel suspension slides, beveled finger pulls on fronts. Cases feature chamfered corners and edges. The below is available in the following Wood Stains and Finishes.
Download Oak Furniture Brochure PDF
FIT Collection Oak Furniture
Carefully selected Oak veneers featuring hardwood cores are at the foundation of the FIT Collection. Ideal for student residence halls, dormitories, firehouses, or any other residential living facility requiring a home-like feel with commercial grade quality. Contemporary bar pulls add style while the impressive finish selection completes the design. Drawers are built to withstand constant use and all joinery is glued, screwed and fitted. The below is available in the following Wood Stains and Finishes.
Download Oak Furniture Brochure PDF
Sofas, Loveseats, Chairs, Ottomans and Tables
CSD's affordable line of heavy duty wood furniture adds a touch of home to any setting. Constructed of solid pine wood with 3-ply side and back panels, our solid wood furniture is virtually indestructible and will give you years of maintenance-free use. Raised fronts on all of our sofas, loveseats and chairs make for easy cleaning under these pieces.
Designs are available in both the traditional closed-end Classic style and the open-sided Pickett style.
Seating cushions are reversible, zippered for easy removal and can be replaced when they become worn or damaged.
Our standard cushion foam meets California TB #117 code. Optional foams and fabrics that meet more stringent fire codes are available.
We offer a large selection of contract-grade fabrics and vinyls from which to choose, including wear resistant Crypton® fabrics.
Download Our Pine Wood Furniture Brochure
Chairs, Tables, Benches, Carts and Hutches
CSD's intensive use wood furniture for dining rooms is heavy duty and has multiple pieces to meet your individual needs. Although it is built to withstand the toughest environments, its practical good looks will make everyone feel comfortable. It is designed for dining rooms and kitchens, but is versatile enough to also fit into a game or recreation room. Our tables come in a variety of sizes and with our standard hand rubbed oil finish. A more protective lacquer finish or the laminate inlay finish are also available as options.
Tables in 2-, 4-, 6- and 8-seat sizes
Adjustable shelves on the utility cart
Chairs are available with solid wood seats and backs or you can choose from our wide selection of fabrics and vinyls, including Crypton®.
All seats and backs are replaceable and our fabric, vinyl and foam meet the CaliforniaTB #117 flammability test.
Replacement parts for damaged furniture.
Heavy Duty Commercial Grade Wood Beds –
Single, Double, Queen, Daybeds, Captain's Beds and Security Beds
Organize your bedroom and storage space with our large selection of beds, wardrobes, and chests. From space-saving loft units to traditional twin beds, CSD's furniture provides plenty of choices for combinations that suit your particular needs. Selections include a security bed for high risk patients. All feature sturdy solid wood construction and have finishes that are easy to maintain in any environment.
Solid wood headboards and foot boards have 3-ply construction.
Drawers have French dovetail construction.
Every piece is designed to withstand many years of tough abuse.
CSD has mattresses to fit all the beds it supplies.
Five different chest sizes – 2-, 3-, 4-, 5- and 6-drawer styles
Two different dresser sizes – 3- and 6-drawer (double) styles
Four standard wardrobe sizes – 1 single and 3 double styles
Desks, Bookcases, Entertainment Centers and Carts
With CSD intensive use wood furniture, you will be able to customize your study areas with a variety of features and furniture choices. These include computer hutch tops with adjustable shelving, keyboard/pencil drawers and study carrels with optional lights and corkboard backs. We offer both a large and small size desk. The three drawer pedestal will fit underneath the large desk. Easy-to-clean laminate finishes are an option for all desk tops. All the dining room chairs we manufacture fit every desk style. The dining tables and chairs are also good fits in a study area or library.
Recessed pulls on drawers mean there are no handles that can break
A keyboard drawer can be added to any desk
Video cabinet doors have 270 degree hinges
An entertainment center with your choice of shelves, either with or without doors, and drawers
Laminate as an optional desk top finish
A large storage drawer as part of the video cabinet
Multiple accessory parts that can be added as an option to our large desk
Bookcases in both large and small sizes
Heavy Duty Wood Furniture Guarantee and Limited Warranty
Furniture used in commercial or institutional applications is guaranteed against structural failure for a period of five years from date of delivery. Fabric, vinyls, foam, sleep bed mechanisms and dining chairs are guaranteed against faulty workmanship for a period of one year from date of delivery. Since our furniture is made of natural solid wood, any contraction or expansion of the wood due to seasonal or atmospheric conditions which does not affect the structural integrity of the furniture is not covered by this guarantee. We will repair or exchange any faulty product under this guarantee for the original purchaser.
CSD's Pine Wood Furniture Features and Options
Handles
The recessed pulls on drawers mean handles that cannot break
Drawer Construction
CSD 's pine wood furniture is constructed with a French dovetail construction method that will enable your drawers to withstand years of use.
Mortise and Tenon Joints
All our wardrobes utilize a mortise and tenon construction for added strength.
Safety Features
Full length guard rails on sides of bunks or daybeds are standard. Bunks are secured by 3″ steel pins on all four corners.
Mattresses
Our contract grade mattresses are available with standard pinstripe ticking or optional fluid proof covering. All contract mattresses meet or exceed the Federal Flammability Standard 16 CFR 1632 (DOC FF4-72 Amended). Mattresses are available with Boric Acid felt with vinyl and nylon tickings which pass California Technical Bulletin 129.
Fluid Proof Liner (optional)
Our staph check liners are designed to protect your furniture from urine and spills. The zippered liner can easily be removed and cleaned.
Security Cables (optional)
Aircraft security cables positively secure cushions to the frame of the furniture for safety. May be unlocked for easy removal.
Lacquer Finish (optional)
To enhance the protection of the wood, a lacquer finish is available.